Moriarty News
Local Heroes
Bethel Storehouse
During the regular City Council Meeting of April 11, 2012, Linda Smith, Bethel Storehouse Director, and staff were present to provide their annual financial report.  Mayor Ted Hart and the City Council thanked them for their continuing efforts and commended them for the many services they provide to our community and surrounding area.  The Storehouse is celebrating 25 years of service on Saturday, April 28.  
Gilbert "Thomas" Candelaria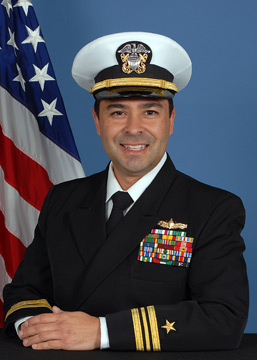 Our first "Local Hero" is Lieutenant Commander Gilbert "Thomas" Candelaria. LCDR Candelaria is divorced and has three children who reside in Maui, Hawaii. He is the son of Junior and Helen Candelaria.   Junior was a long time employe of the City and retired in 2011.
Bio Provided by LCDR Gilbert "Thomas" Candelaria
A former Electronic Warfare Technician First Class Petty Officer, Lieutenant Commander (LCDR) Thomas Candelaria enlisted the U.S. Navy after graduating Moriarty High School in the Summer of 1986. Upon completion of Recruit Basic Training in Orlando, Florida, and follow-on training in Pensacola, Florida, he reported aboard USS RAMSEY (FFG 2) for duty in the Spring of 1987. After a successful deployment in the Western Pacific LCDR Candelaria transferred from USS RAMSEY and reported aboard USS DURHAM (LKA-114) in the Fall of 1989.
In the Fall of 1990 and Winter of 1991 LCDR Candelaria participated in conjunction with other coalition forces in Operations Desert Shield and Desert Storm off the coast of Kuwait. In 1993 LCDR Candelaria was selected for the Navy's Enlisted Education Advancement Program and completed his Associates' Degree at Southwestern Junior College in Chula Vista, California. In the Summer of 1995, he reported aboard USS FITZGERALD (DDG 62) where he completed a Western Pacific deployment and in 1997 he was selected for the Navy's Enlisted Commissioning Program. In the Spring of 1999 LCDR Candelaria earned a Bachelors' Degree in Business Management from San Diego State University and a Commission as a Naval Officer. Shortly after graduation, and upon completion of Surface Warfare Officers' School in Newport, Rhode Island, he reported aboard USS KINKAID (DD 965) in the Winter of 2000 serving as the Communication's Officer and Electronic Warfare Officer. For his follow-on tour he reported aboard USS SIDES (FFG 14) in 2002 as the Ordnance Officer and completed his fourth Western Pacific deployment. Upon detaching from USS SIDES in 2003 he reported to Jubail, Saudi Arabia where he assumed the duties as Naval Liaison Officer and Instructor for the United States Military Training Mission to Saudi Arabia. Additionally, he supported U.S. efforts in the region during Operation Iraqi Freedom.
After his one-year tour in the Middle East he reported to the Naval Reserve Officers' Training Corps unit on the campus of the University of New Mexico (UNM) in Albuquerque, New Mexico. He was assigned as a Naval Science Instructor and student advisor and completed his Masters' Degree from UNM in Public Administration. In the Fall of 2007 LCDR Candelaria reported to Joint Special Operations Task Force-Philippines where he was assigned as a Naval Liaison Officer for the Philippine Navy while supporting coalition forces on the War on Terrorism. In the Summer of 2008 LCDR Candelaria reported aboard USS BOXER as Weapons and Combat Systems Officer and he is currently deployed in the Western Pacific serving as the First Lieutenant supporting coalition forces in anti-pirating efforts off the coast of Somalia.
LCDR Candelaria's personal awards include: The Defense Meritorious Service Medal, Navy Commendation Medal, Navy Achievement Medal (three awards) and various other service and campaign medals and ribbons.
This site is partially funded by:
New Mexico Department
of Tourism
© Copyright 2012 City of Moriarty | Website by
Lobo Internet Services
Bogging photos courtesy Bob Ayre | All other photos courtesy Mountain View Telegraph, unless otherwise specified